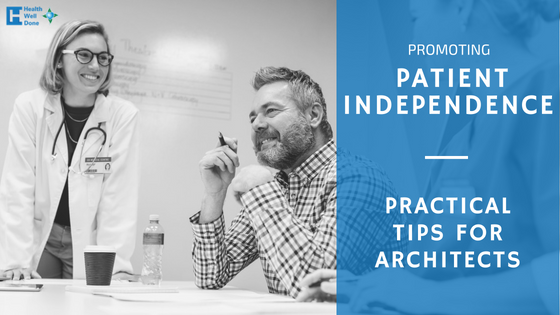 You can't say "July" without thinking of Independence Day. In fact, the recent holiday celebrations made me think about how we as healthcare construction professionals can better support patient independence in our designs.
With the introduction of the Affordable Care Act and the resulting boom in outpatient facilities, patients have more choice – not to mention expectations – than ever before. Because of this, it's crucial that their needs are met in order to create a successful and profitable healthcare institution. How can the healthcare project team achieve this, and why is it important?
Why Promote Patient Independence?
Imagine that you are attending a hospital appointment where you might be told you have a serious illness and need to get your affairs in order. You are bound to be worried, scared, and may feel that events are beyond your control – to say the least. Compound this with a stressful, disorganized clinical setting that forces patients to depend on others for their care, and the results can cause needless stress.
Research suggests that calm, stress-free healthcare environments can have a positive effect on the body's ability to heal. In addition, fostering patient independence and self-management ultimately leads to better outcomes and less hospitalization. Recognizing that how we design and build patient environments impacts the collective health of Americans is the driving principle behind Health Well Done.
Putting It into Practice
Part of improving the patient experience is about providing access to facilities and services that maximize their independence. Patients want to manage their own lives with appropriate interventions as and when they need it during their healing process.
For many projects, good design and construction can help in many ways, such as:
Considering the patient's family and including spaces for them to support their loved one can create a more comfortable patient environment.
Designing for function and making sure there is a place for everything, like the practical but eye-pleasing HermanMiller Furniture Compass System (which I love).
Using contrasting colors to help patients (such as those with sight loss or dementia) identify different rooms, features, or furniture within the space, letting them find their way around and use things such as lighting without help.
Ensuring that designs incorporate good lighting – especially natural light – can help compensate for poor eyesight and help people to find their way around spaces or understand the passing of time.
Adding features such as handrails near stairs or in bathrooms gives patients help to get around while also respecting their privacy.
Incorporating well-designed outdoor spaces with defined paths, handrails, and seating areas allows patients the ability to access and enjoy the outdoors on their own.
If you'd like to know more about how to create a more patient-centered healthcare facility, take a look at my DONE! Three Steps to a Patient-Centered Environment workshop which will give you the tools you need to create optimal patient outcomes.