Why It Matters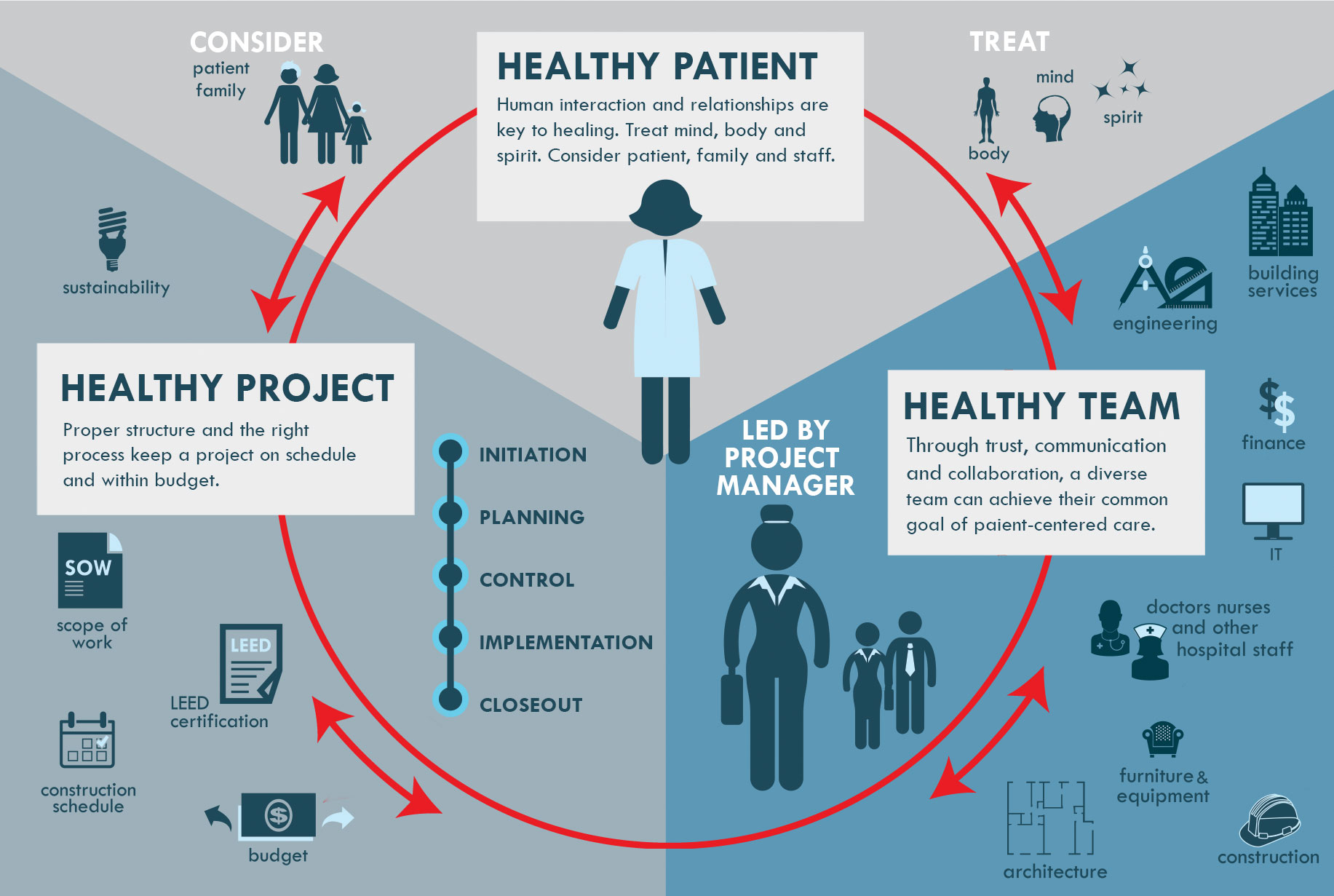 The Affordable Care Act (ACA) is redirecting focus onto improving cost efficiencies, patient safety and quality of patient care. It also expands the reach of traditional health care by incorporating integrative preventative and treatment approaches.
Ultimately, cost-savings will drive sustainable practices through LEED certified construction, improved productivity, maximizing the efficiency and effectiveness of healing. Healthier Hospital Initiative is one example of an industry-wide movement that is developing the road map for how hospitals are designed, built, and operated. The goal is to improve patient outcomes, workplace safety, prevent illness and save billions of dollars. Nancy Sutley, chairperson of the White House counsel on Environmental Quality, affirmed the Obama administration's commitment by saying, "This administration is on your side if you are making this happen."
A well-designed health care facility is as critical as the staff in terms of:
outcomes by staff, patients and their families
reducing medical errors
decreasing risk of infection and injuries
improving patient recovery
retaining staff
increased morale
high production, which leads to improved profitability
Who is responsible?
Healthcare Project Management involves many specialties, languages, procedures, governing bodies, a variety of resources and human dynamics. The project manager is the key member of the project team. The success of the project can be directly tied to the Project Manager. The process outlook no longer is the sole focus for success. It is about being able to take the project from concept to conclusion, managing all of the stakeholders in between while keeping the project on time and budget..
Healthcare projects fail because of:
unclear project goals and objectives
lack of team participation in effective planning
inadequate PM technical, administration, or relational skills.
Health Well Done bridges the complexities of patient-centered care with health care facility project management to create a holistic solution that overall increases profit.
Healthy Patient
Health care doesn't exist without a patient. The bottom line is maximizing the effectiveness and efficiency of the care provided. Plus, care must be provided in a way that impresses the patient so that they feel heard, supported, cared for, and nurtured. That level of care provides a strong referrals, which is essential for long term growth in a highly competitive market.
Creating healthy patients starts by viewing the patient as a person and creating relationships. It takes into account the family and friends of the patient who share in the patient's healthcare experience. It recognizes that human interaction is a key part of the healing process. And it values every department as a contributor to continually improve patient outcomes affordably and with ease.
Healthy Team
When you bring the heads of various departments together to work on a project, egos collide, schedules are demanding, and communication can be ineffective. Health Well Done recognizes the importance of a Project Manager being a solid leader, cultivating a culture of team trust so that each participant's point of view can be fairly incorporated. Teams are built with representatives from finance, architecture, engineering, IT, construction, furniture and equipment, building services, doctors, nurses and other hospital staff all moving toward a shared goal. Our secret is our unique storytelling technique (The SPA Tool) which enables effective communication and collaboration across departments and leads to improved performance outcomes and patient centered care. The result is a group that functions with a common intention and can collaborate effectively to complete the project.
Healthy Project
The ultimate goal is to have your project on task, on time, and one budget. Through the efforts and outcomes of the Healthy Team, Healthy Projects focuses on the nuts and bolts of the project itself. This includes budget, scope of work, the formal project management process (including construction schedule and disruptions to normal operations), the healing component for patients, sustainability and LEED certification. A Healthy Project uses evidence-based design (design elements already statistically proven for better care, improve morale, and money savings), integrates all healing modalities- both Eastern and Western, integrates environmental sustainability, and generates a high ROI.
Health Well Done's approach provides a simple 3-way approach to bridging the gap between the budget driven, bottom-line aspect of healthcare with the patient-centered approach to healthcare. Health Well Done incorporates the principles of integrative medicine to look at sustainability- for the business, environment, community, staff and patients impacted by the facility project at hand.
We tailor our process to meet your unique needs. Let's talk about how we can work together to take your projects to the next level.