Guiding Principle
When management approves a project to be built, it may ordinarily be approached in a chaotic fashion, as the various people, companies and agendas involved all jockey for position. This is when the disciplined approach of Health Well Done first appears. The "understanding of healing and a balance of process" is a proven technique that divides all the elements of the process into three groups (Healthy Team, Healthy Project, Healthy Patient) to help ensure that all the pieces, parts and participants that need to be included are indeed accounted for. This guiding principle of Health Well Done makes the difference between a healthcare project that is merely done, and one that is, in fact, well done.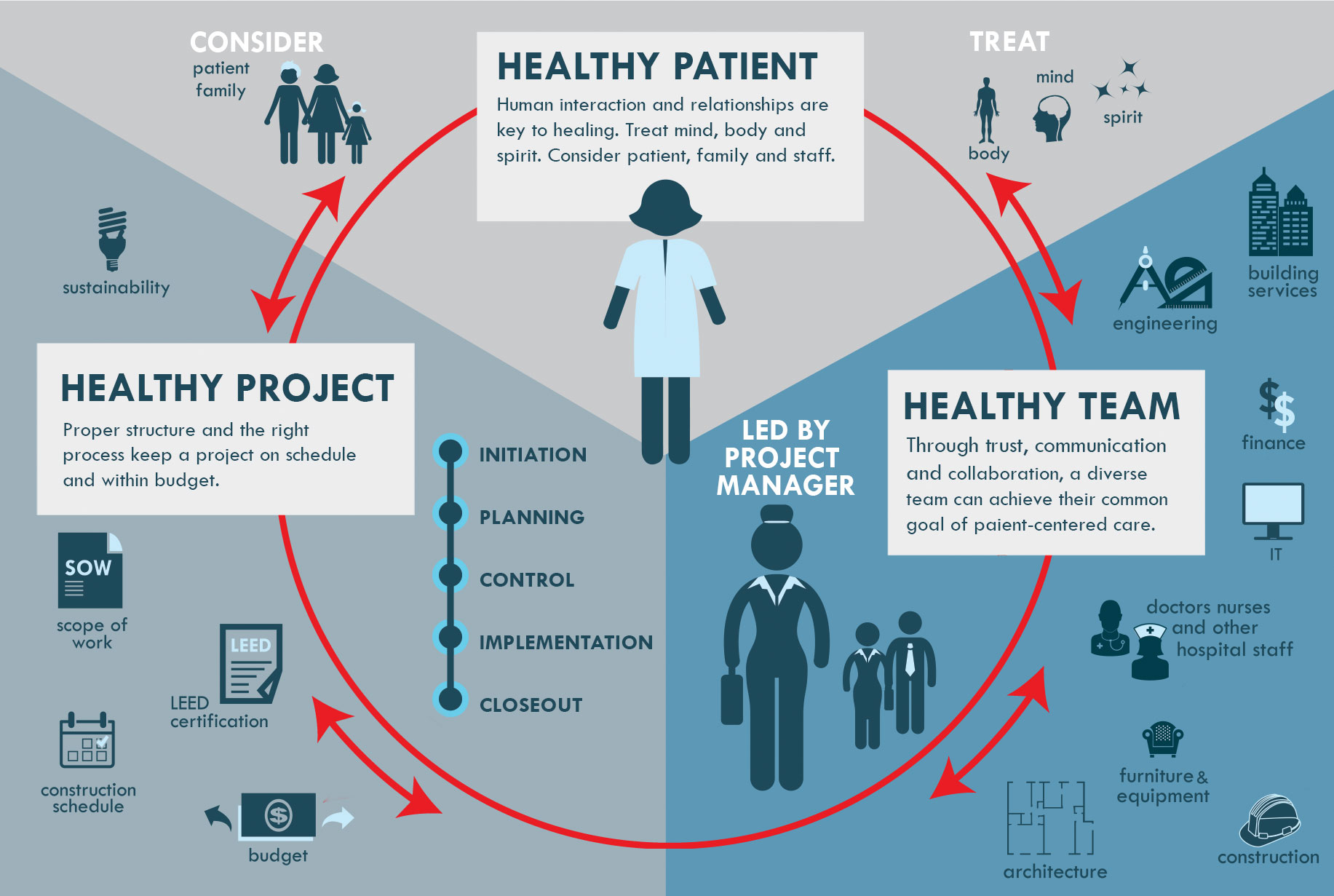 Healthy Patient . . .
helps everyone remember that all the budgeting, planning and building ultimately revolves around the care of the patient who is the end user. Healthy Patient supports the relationship between the patient and the healthcare provider, where the goal is to treat the mind, body and spirit, all at the same time. It takes into account the family of the patient. It recognizes that human interaction is a key part of the healing process. And it values equal or better patient outcomes with less cost and less trauma.
Healthy Team . . .
refers to project management, and puts the Project Manager in the lead and at the center of a team, surrounded by representatives of finance, architecture, engineering, IT, construction, furniture and equipment, building services, doctors, nurses and other hospital staff. The Project Manager must cultivate a culture of trust within the team, so as to facilitate communication, collaboration and accountability, and so that each participant's point of view can be fairly incorporated. The result is a group that functions with a common intention and can collaborate effectively to complete the project.
Healthy Project . . .
begins with a healthy team and an articulated goal, and focuses on the nuts and bolts of the project itself, including: budget, scope of work, the formal project management process(including construction schedule and disruptions to normal operations), the healing component, sustainability and LEED certification. A Healthy Project uses evidence-based design(design elements already statistically proven to better care, improve morale and/or save money), integrates all healing modalities, both Eastern and Western, goes green wherever possible and generates a high ROI (return on involvement).
Without the discipline provided by the Health Well Done approach, critical issues may not be thought through, valuable input from people in different departments may not be sought, budgets can run over and deadlines be missed. Management may be left out of the communication loop, and not involved until problems become too big to hide. Thus, the rationale for a proven, well-reasoned path to follow.